I'm loosening up a bit as a parent. It's either because of age, experience or being at home all the time, but I'm relaxing a little more with the "messy" activities for the girls. It's probably a little of three. Either way, I let Meredith do two different activities that were fairly messy and I didn't freak out! Yay! ;)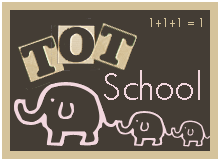 Meredith is 16 1/2 months old
After playing with playdough, I randomly decided to pull out the sensory bin. I tried to add some valentines stuff to it, but I don't have a lot of little valentine's items, so you can't really tell that there's a theme.
I tried to keep her hands and cups over the bin, but I finally gave up and realized a broom and vacuum could pick it all up in no time! However, I do think I will try to find some white bean to use rather than rice. Below is what happened to the paper heart I put in the box.
It never stood a chance with Meredith around! ;)
The next day I decided we would talk about the color purple. Mackenzie and I went around the house to gather any purple objects we could find.
We actually found even more purple stuff after this first day and now the box is pretty full. We pulled each item out and she played or threw it on the floor. She especially liked bouncing the balls.
She especially liked bouncing the balls. Here she's trying to sit on the ball and it didn't quite work out for her!
She's such a copy cat and when she saw Mackenzie running around with a foam butterfly on her forehead saying "I'm a butterfly", Meredith had to put the other foam piece on her face also! ;)
I've been trying to get her to say purple all week, but so far she just stares at me when I say it. Maybe when we add a new color this week, she'll learn to differentiate between the two colors even if she can't say the word. That's what I'm hoping for anyway. We'll see what happens.
The messiest thing we did was PAINT!!! I know we painted a few weeks ago, but it was only for a few minutes. This time I just let her do whatever she wanted...with purple paint, of course. ;) I only had to tell her not to eat it once. Although you can see that she still managed to get the paint on her lip.
Mackenzie and I were working on other painting crafts, so when she saw us painting Mackenzie's hands, she decided she would paint her hands too!
She LOVED painting and really saturated the paper in the corner. When Mackenzie and I were done, I stripped the girls and they had a bath. It was only 3:30 in the afternoon, but I knew there was no way to wash only Meredith's hands, plus Mackenzie did a footprint art thing, so she really needed a bath. Surprisingly, it was very stress free and besides the high chair, we didn't get paint anywhere else in the house! yay!
Here's Meredith's purple masterpiece!