I try to have school with Mackenzie when Meredith is napping in the afternoons, but often times, we also do school in the morning while Meredith is around. Most of the time I let her just play around us, but this last week I thought I'd let her have some "school" of her own. With that in mind, I decided to link up to Carisa's Tot School on
1+1+1=1
.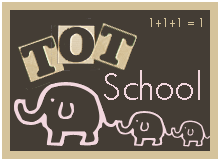 Meredith is 16 months old
Meredith painted for the first time this last week! Mackenzie was 3 when I let her paint with real paint in our house, so this was a big deal for me. ;) Mackenzie was painting too, so I thought Meredith might enjoy it. She seemed to like it and didn't get too messy, but I had already stripped her of her shirt, just in case.
She only painted as long as Mackenzie did - maybe 5 minutes and after it was all dry, we made their artwork into fish. Meredith's is the one with very little paint. ;) I'm thinking this week I might try finger paint and see if she likes it better than her sister, who does not like to get her hands dirty unless we are doing an actual hand print craft.
On another day, I let Meredith play with pom poms and a tupperware container. She did some transferring from cup to cup, but mainly she just wanted to dump them out and put them back in the big cup! ;)
The funniest part was how she didn't really want the sparkly pom poms to be in the container. I put a couple of purple pom poms in the cup first and then gave her another purple one to put in, which she did. I then gave her the sparkly purple pom pom to put in, but she looked at it and then through it out. I thought this might be a fluke, so I tried with the yellows, but the same thing happened!
I guess she didn't really like the sparkly pom poms! ;) Eventually, Mackenzie joined in and we started putting them in other containers like the piggy bank.
I didn't think I had said the word "pom pom" very many times, but later that night I asked Meredith to show "Daddy her pom poms" and she went straight to the playroom and picked one up. At least she learned what they are!
My final "intentional activity" was playing with all of our different bouncy balls. She played with this the longest. Meredith received a package of sensory balls for Christmas, so I thought it might be fun to play with these a little more. At first we started with only these, but I eventually added all of the balls I could find, which I was surprised to see we had so many.
First things first, she had to empty the box to get in it!
Then I asked her to start putting them back in the box while I counted each one she put in.
She really liked when I counted them and would smile and wait for me to say the number. ;)
I counted, said their colors and then the real fun began when we bounced them down the hall! I think Mackenzie and I will be doing something this week with them in our school to see how high some of them bounce.
One of my new favorite pictures is Meredith peeking around the column to see what ball I'm going to throw next.
Also, I think she was touching the radio on the other side of the column when she shouldn't have been, so it's more likely that she was checking to see if I was coming to get onto her! ;) Either way, we had fun with our intentional play and I plan on doing more of this in the coming months.
*Update*
This post was featured on my favorite homeschooling blog!