I learned something this week...if I give Meredith an organized activity while Mackenzie and I do school, she behaves much better! I'm sure if I had thought about it a little sooner I would have figured it out and we could have enjoyed more schooling as a group! ;) Live and learn.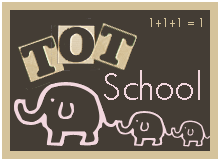 Meredith is 16 1/2 months old
This week, I focused on 3 different activities with Meredith - counting bears, music and magnets. They don't include the times she colored with crayons and markers while Mackenzie and I did school. As said earlier, if I can keep Meredith busy with something similar to what we are doing (not just playing with the dollhouse), she really enjoys it. Let's face it, you'd enjoy yourself much better too, if you didn't have someone constantly telling you, "no ma'am". ;) So, crayons and markers do pretty well when I want to focus on Mackenzie only, but an organized toy/activity are even better and all 3 of us end up playing together.
I pulled out some ice cube trays and the counting bears because I knew she would have fun putting them in and out of the little holes. She played with these for well over 30 minutes! My first picture is from 10:36am and my last picture is at 11:04, but the last picture is of Mackenzie and I know we played well after I stopped taking pictures. These bears are definitely a favorite!
She filled up the tray and then one by one she would replace a bear in the tray with a new bear from the cup or high chair tray. Just for fun, I gave her a pair of tongs and she tried to grab a bear, but it was a little too difficult for her. She sort of understood the pinching motor skill, but when she couldn't pick up the bear she gave the tons back to me. We'll try again another time.
After a while she decide to stack the cups...
And just when she was getting a little tire of the bears, I brought out a different ice cube tray and she was content again!
On another day we played with different musical toys. I didn't realize how many musical items we have, but we had fun playing with all of them. Mackenzie has to dance and sing any time there is noise that even slightly resembles music, so she joined in the fun. In the picture below, Meredith is singing too! She's not singing anything we would understand, but she's doing what she considers singing.
I don't have a picture but she figured out how to play the harmonica and know it can make noise if she blows in and out, so she played that several times. She also likes the kazoo, but will sometimes get the two confused as to which one requires you to also make noise when you blow through it.
And finally, an unplanned activity that she really liked. Friday she woke up from her nap early and Mackenzie and I were still doing school and I knew Meredith would want to play with the magnets Mackenzie was working with. So, while Mackenzie finished up her sheets she was doing, I let Meredith play with the remaining magnets and the magnet wand.
She couldn't stand for the magnets to be on the wand and would pull them off as soon as I put them on!
So, that was Meredith's week. Maybe this week I really will break out the paint or some other sensory play activity.